Having the right equipment for the trip makes the journey so much more enjoyable
The Great Outdoors is Calling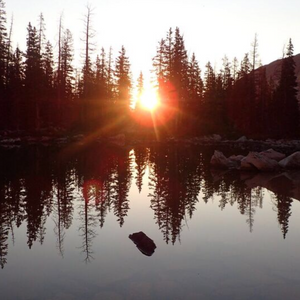 See The Sun Before Everyone Else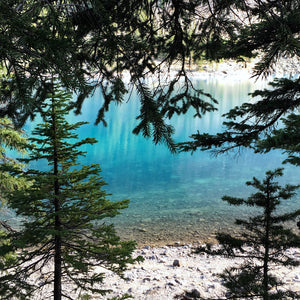 View The Vibrant Colors Of Nature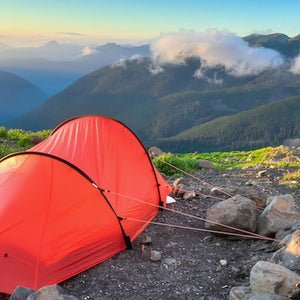 Breathe In The Crisp Mountain Air
Simple • Compact • Portable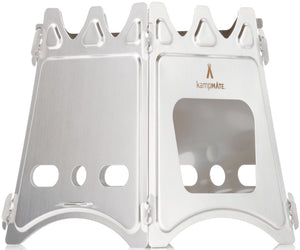 • Lightweight & Portable
• Sturdy Construction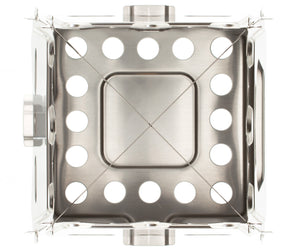 • Easy to Assemble
• Carry Case Included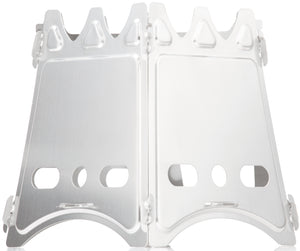 • Environmentally Friendly
• Burn Multiple Fuels
Real People • Real experiences
This is a nice light weight Stainless Steel wood burning stove. A must have for a backpacker or as a backup camping stove. Very sturdy and assembles easily. I tested this out on a large pot of water for hot chocolate while camping. Heated the pot of water up in about 10-12 min with a decent coal base in 40dg weather. There will be residue after use that easily wipes off. Stove comes apart just as easy as it goes together and stacks on each other nicely in the supplied case. Wish i had one of these years ago!!

Jeff A.
Great little stove - easy to put together and comes in a sturdy storage bag. Pieces fit well and didn't have sharp edges. Nice size once assembled, but packs down flat to save save space in your pack. Made from stainless steel, doesn't flex much, but can bend the tabs a bit if needed for assembly. This is not a lightweight item, so if weight matters, look elsewhere. It does exactly what it should, which is provide a safe place for a small concentrated fire to cook a few eggs, a burger or heat water for coffee. Tested it out with the grandkids and some marshmallows. A definite hit!

Kim T.
This is a great stove. It is reasonably light and compacts into a shape that can fit anywhere. I have carried this stove as the sole stove option on several extended canoe trips thru remote areas. One or two dead branches is will provide 1-2 hours of burn time. At established campsites I just use the wood scraps left around the site while others are scouring the woods looking for wood for their fire. Being a natural fire it will turn your pots black with soot unlike alcohol or propane stove options. I just put a paper towel in between the nesting pots to keep the inside of the pots clean.

Jacob M.
This is the first camping stove I've bought, and I am happy to say I feel like I picked a winner. It's not as small as some of the other brands I've seen advertised, but as I'm not an ultralight backpacker. There is a bit of a learning curve regarding what size wood to use. I found pieces about the same diameter as my thumb worked well. Once it was going, it went through the fuel at a decent pace. Not to fast or slow for my liking. I also liked that the bottom plate is designed in such a way embers are able to collect for more heat while ash is able to fall through the holes with a bit of tapping on the side if it starts to build up. That said, I did cool it off with water instead of letting it cool down naturally (poor planning on my part, I had somewhere to be) which resulted in a slight bit of diagonal bowing on the side panels, but it doesn't affect usage since the bow is removed when it's assembled. Nice to know that it's able to handle abuse due to user error.

Angela A.
Much better stove then higher priced brands. The stainless is a heavier grade making it extremely sturdy even with considerable weight on it, and it won't warp from extreme heat. Very easy and quick to assemble. The base plate is not completely ventilated making for a partly smooth section of the plate for coals to accumulate rather other brands that have holes throughout the plate that won't hold the coals. The holes are only around the perimeter of the plate. A must for cooking with only heat, not open flame. Wood lights easy and is well ventilated for a good hot fire and the opening is large enough to easily add wood without fear of getting burned. The cross bars on the top are a must for proper support of pots and pans. When done, it disassembles easily, and cleans up nicely with just a rag, folds flat, and stores in a heavy pouch. Better than the rest, by far!!!

- Zeke D.
The primary reason I purchased this stove is for heating water to make soup or re-hydrating freeze-dried meals while out on all-day, mountain hikes. All day - dark to dark. A nice bonus with this stove is I Having a fire is an amazing morale booster on cold, wet or frigid days and I think the kampMATE will deliver that with ease.

The stove is a little bit hefty, but it packs down to nothing. Compared to my liquid or gas fueled stoves, with the kampMATE I don't need to muss around with liquid fuel or worry about canisters running out. So in reality compared to my other stoves there really is little actual weight penalty.

So yeah, this little stove really is a great bit of gear and at a bargain-basement price. I wish i had connected with one years ago!

Cam C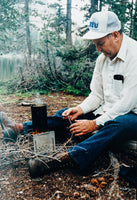 Original WoodFlame Stove
kampMATE was born out of the mind of our late father, Glen Probst. Nearly 40 years ago our dad designed and manufactured the first WoodFlame wood burning stove. It was the first of its kind and it quickly gained traction durning that time when open camp fires were not allowed in the wilderness and backcountry. The stove design and utility function were patented and so began the life of the WoodFlame Stove. Nearly all the stove designs today are still patterned off his original design.
As the patent was expiring we decided to retool and create a new version of a backpacking stove and patent it for the modern backpacker. This stove, called the Folding Firebox, is truly the Swiss Army Knife to backpacking stoves. After selling our interest in that company years ago we decided to re-enter the market with a stove that is closer to the original WoodFlame stove in both size and design but with a few upgrades. So today nearly 40 years later we have the modern version of the WoodFlame Stove that is sturdy, lightweight and extremely functional at a very low cost.
Learn More
WoodFlame Stove - Original 1989 vs New 2020